SALES MENU
Autologic Diagnostic Equipment for Landrovers
The complete diagnostic system for the Landrover Range of vehicles.
Full fault finding, Dynamic Readings, Security Settings etc.
Like to increase your POWER by 35BHP Please call us for details

Landrover Defender 110 Tipper Conversion

This tipper is not for sale. It is one we made for a customer recently.
It is our own design and is a great success.
If you would like one too, contact us to discuss it.
Bring us your vehicle, and we will convert it

Defender 110 Body (not supplied)
1.3ton carrying capacity. springs upgraded to 130 spec,
Aluminium dropside with swinging tailboard. steel framework.
Plastic mudguards. Rear lights modified to incorporate steel bumper.
Electrically remote operated.

£ 2,950 +vat


Want to Buy a Landrover
We only buy in good quality Landrovers to sell.
Please advise us of your own requirements,
such as spec, colour or price.
let us find the right vehicle for your needs.
We rely on our reputation.
NEW VEHICLES ALSO AVAILABLE
LANDROVER DEFENDER BULKHEAD CONVERSION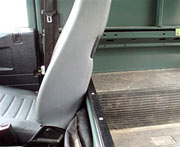 Click on image for more views
Do you suffer from a lack of legroom? Then this could be a big help. Designed for 2.4 TDCi engine type models, though can be converted for all models since '85. NOT FOR PICKUP/TRUCK CAB MODELS.
This conversion kit will give you up to 3 inches more legroom and approx 10 inches more seatback recline. Fitted by us, or available as a Kit with Instructions, Rivets, Bolts, Support Plates, Main Bar and Angle Brackets.
Fitted - £295.00 +vat
Kit - £195 +vat
P&P - £12 +vat